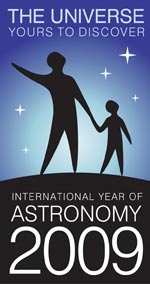 Spring Star Watch Event (March 28th 2009)
The International Year of Astronomy 2009 (IYA2009) is an exciting global celebration of astronomy and its contributions to society and culture.
Coinciding with the 400th anniversary of Galileo's first glimpses through a telescope and the birth of modern astronomy, it gives people all over the world the chance to get involved in this fascinating science and experience the wonders of the night time sky.
On Saturday March 28th 2009, Aberdeen Astronomical Society is hosting its first IYA2009 event called "Spring Star Watch" at the Bettridge Centre, Newtonhill (Directions), as part of a series of co-ordinated astronomy events across the country. This event is open to all members of the public that would like to learn more about the night sky. There will be plenty of astronomical activities no matter what the weather. The evening starts at 7:30 pm and finishes at 9:30 pm.
There will be an introductory talk on astronomy explaining what is on view in the night sky and how to go about getting into the hobby. The Cosmic Dome Planetarium will be present to help people find their way around the night sky and learn about the constellations. If skies are clear, telescopes and binoculars will be set up outside to show some highlights of the Spring night sky, such as Saturn, the Orion Nebula and the Pleiades. We will also be supporting the Cub Scout and Brownie astronomy badge scheme.
AAS President, Darren Moody, said "It was 400 years ago that Galileo first turned his telescope at the planet Saturn. We're now giving north-east stargazers the same opportunity to view the solar system's most spectacular object through telescopes."
Refreshments will be available for a small charge.
Admission is free although donations to cover costs will be welcome.
Children must be accompanied by adults. Youth groups are welcome, but please contact AAS in advance. The Cosmic Dome Planetarium is a simulation of the night sky and thus very dark. It may not be suitable
for very young children. It can be very cold observing the night sky,
so warm clothes and outdoor footwear are essential.
Aberdeen Astronomical Society can be contacted by e-mail at aas@aberdeenastro.org.uk or via its website http://www.aberdeenastro.org.uk, where full details of this season's events can be found. New members are welcome to come along to any meetings, irrespective of experience.
IYA2009 links
UK :: http://www.astronomy2009.co.uk/
Global : http://www.astronomy2009.org/